We have always said that the main WinterStorm event would never expand beyond two days of rock and that anything added before or after would have to be both special and different. So welcome to After the 'Storm...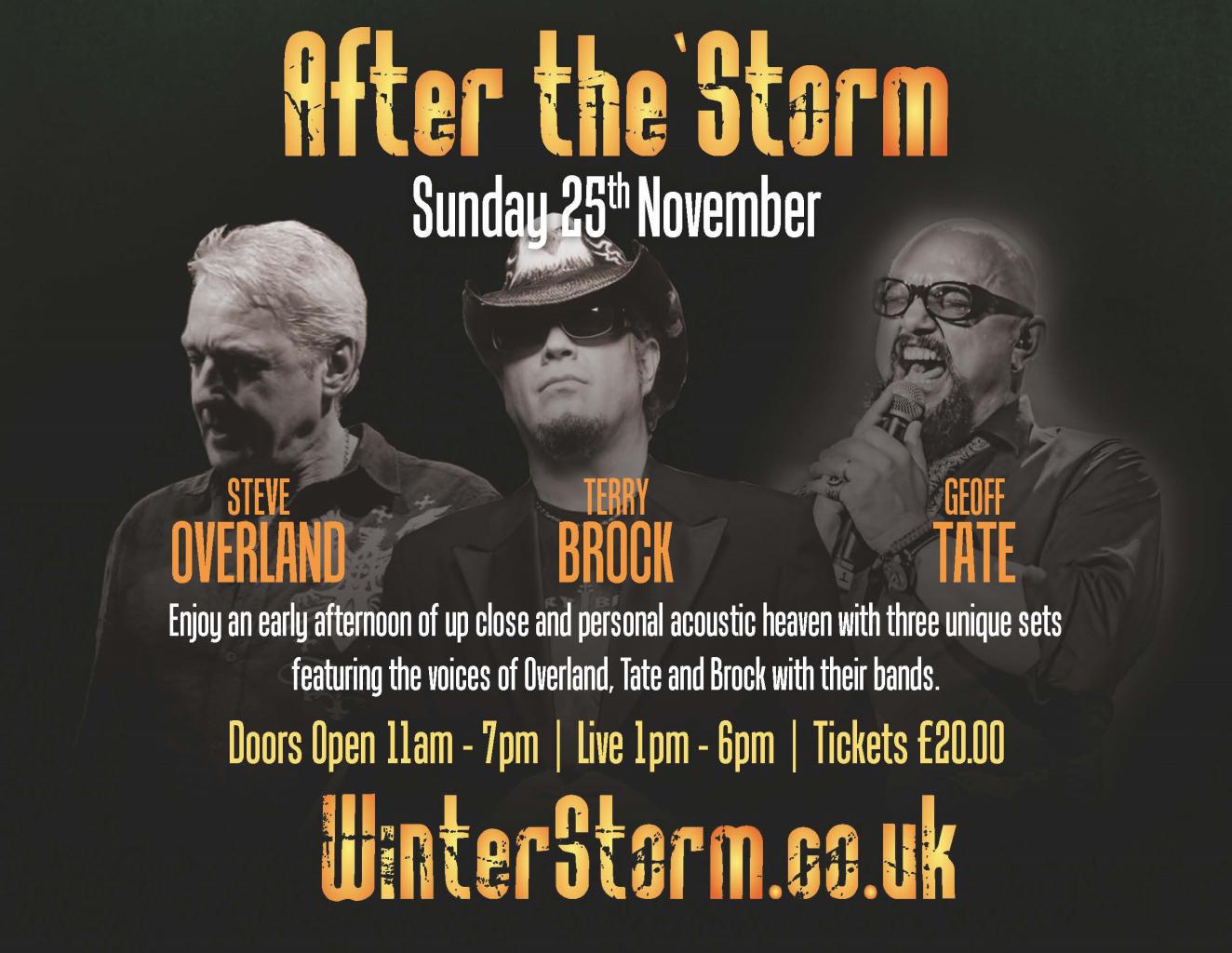 The Event
The title of After the 'Storm captures what we are trying to achieve; the calm - well at least to some degree!
An afternoon of classic acoustic rock with a twist of blues, prog and country along the way in front of a seated and more intimate audience - the perfect way to wind down from some of the excesses of Friday and Saturday but with a 6pm finish ensuring that an early night is still feasible!
The doors will open at 11am for breakfast for those that can handle it - the bar will be open til seven for those with the constitution! The first act will be on stage at 1pm.
The Artistes
If we were going to do acoustic we would have to do it with some of the best voices and musicians around and the three sets tick the boxes.
Geoff Tate and Band
Geoff Tate and his band hot off the main stage on the Saturday night featuring Operation Mindcrime in full will open the Sunday Sessions and switch to a stripped back set featuring the best of Queensryche and solo material. Geoff revels in the intimacy and conversation of the acoustic and we can't wait for this. What a way to waken up to on a festival Sunday!
Terry Brock and Band
One of the most requested bands for WinterStorm since we kicked off has been Strangeways and whist we've not managed to swing this one (yet) we are delighted to have the voice of that classic AOR band with us in the shape of Terry Brock and his band. A set featuring some of the aforementioned Strangeways? Bit of Kansas? Solo material for sure. One of the best rock voices in the view of many and you can be assured of a set filled with some classics across the genres.
Steve Overland with Jim Kirkpatrick
The afternoon and indeed the weekend will be signed off by the FM duo - the amazing voice that is Steve Overland and fittingly, by the man who inspired us to do WinterStorm when it was nothing but a crazy idea, guitarist Jim Kirkpatrick. Whatever set these two put together in this acoustic set will be the most fitting end to a classic rock weekend and ensure that there is a bit of a sing along too! Love this wee fan video which showcases these two top musicians perfectly!
Tickets
Ticket applications will go live for After the 'Storm at 8pm on Sunday 1st July with tickets priced at a snip at £20 and will ONLY be available to be purchased by WinterStorm ticket holders and it should be noted that access will only be given to wrist band holders with Tickets. No wristband no entry - this event is for WinterStorm attendees only.
The event will be strictly limited in numbers - the Jagermeister Stage only seats 140 - and we are pretty sure will sell out. Please note that if oversubscribed on the day of sale we may have to ballot for fairness. We hope that you understand and agree that this is the fairest way forward.