Updated 26th October 2022
Following the notification that Molly Hatchet had postponed the whole of their 2022 UK and European Tour we set to work on WinterStorm V6.12.4 and are happy to announce line up and stage times in time for the one month countdown! Click on the features below for the details.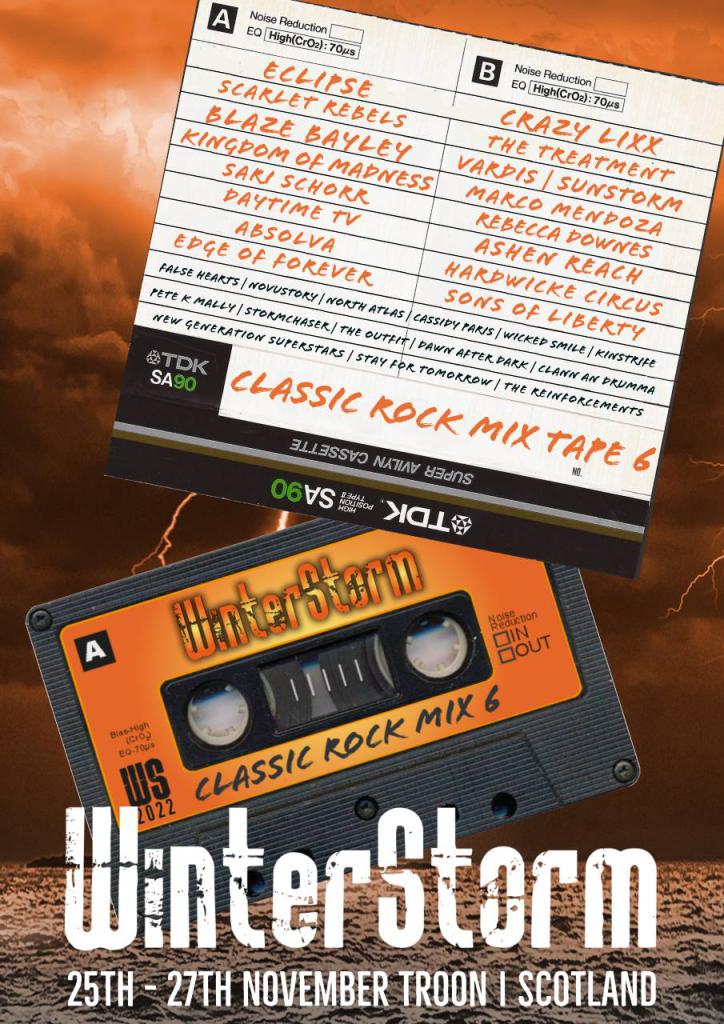 The timings for the two stages for 2022 are listed below.
Friday 25th November 2022
Steve Strange Stage
1300 | Doors Open
14:00 | Edge Of Forever
1500 | Absolva
1600 | Daytime TV
1710 | Sari Schorr
1825 | Kingdom of Madness
1955 | Blaze Bayley
2125 | Scarlet Rebels
2235 | Eclipse
Sessions Stage
1520 | False Hearts
1630 | The Outfit (with Chris Glen)
1745 | Novustory
1915 | The Reinforcements
2045 | North Atlas
2155 | New Generation Superstars
Saturday 26th November 2022
Steve Strange Stage
1200 | Doors Open
1300| Clann An Drumma
1320| Sons of Liberty
1420| Hardwicke Circus
1520| Ashen Reach
1620| Rebecca Downes
1725| Marco Mendoza
1845| Sunstorm
2005 | Vardis
2125 | The Treatment
2245 | Crazy Lixx
Sessions Stage
1440 | Stay for Tomorrow
1600 | Pete K Mally Comedy Set
1645 | Cassidy Paris
1805 | Dawn after Dark
1925 | Stormchaser
2045 | Kinstrife
2155 | Wicked Smile
Sunday 27th November 2022
12 noon | Concert Hall Bar and Catering Open
12 noon | Doors open along with Hing oot Hall bars and catering, merch collection and cloakrooms
Sessions Stage (Acoustic)
12.20pm| Ronnie Romero
1.45pm | John Corabi
3.00pm | Book signings
Steve Strange Stage
4.00pm| Main Stage Doors Open
4.15pm | Sandi Thom (Acoustic Set)
5.45pm | The Skids
7.25pm | From the Jam
9.00 pm | Big Country