Keeping you up to date with bar and catering availability throughout the weekend is really important to us, so this year there will be QR codes placed around the venue linking to pages on our website that will be regularly updated to reflect what is available. This page has everything you need to know in terms of food and drink options over the weekend and full menus can also be seen below.
Payments
Payments will be by card and cash across all areas of the event - with the possible exception of some band merchandise which may be card or cash only.
Water Coolers
In line with the last few years we have retained the free water coolers around the Main Concert Hall.
Reduce Single Use Tumblers
We're proud of our early commitment (2017 we think!) to trying to Reduce Single Use and again all catering disposables will be compostable and we are once more using the much collected WinterStorm Tumblers at the bar. These are chargeable £2 at the time of your first purchase and will be swapped over every use for a clean one. At the end of the weekend you can swap over your final used glass for this years version with its Filled to the Brim With Rock n Roll! Additional glasses may be available for sale at the end of Saturday night.
Beers and More
For the first time we will have more than ten different ales, lagers, ciders and beers available on draft over the whole three days.
We'll be featuring products from at least eight breweries giving an unrivalled choice in quality and tastes. Even better, they'll be served by those most knowledgeable folk from CAMRA who will not only serve your pint, but talk to you about it too! You can find out more about the breweries involved
Catering
We've gone all out with the food options, and this year are delighted to have a new catering partner - Troon-based takeaway business SCRAN!
You can have a read of their story below, as well as take a peek at some examples of their mouth-watering creations! Not only can you enjoy the famous WinterStormer Pie, but also the delicious, fresh, street food-style options the team will have on offer. Food will be available all weekend including from 12noon on the Sunday so you can enjoy as much of the menu as possible!
"SCRAN….JUNK FOOD DONE GOOD"

The story started from Platform 1 in 2007 when we where a hot roll, hot drink and grab a newspaper on your daily commute, we were part of 'The Railway and daily commuter family, and I absolutely loved every minute of it.

During Covid, my son Kyle (AKA The Scranman) came onboard and Scran was launched! An evening side to the daytime business - something I'd never thought about doing before, but very quickly we realised we were receiving attention from junk food connoisseurs all over Ayrshire, and our social media following was building.

Then just a few short months later our world stopped in July 2021when Platform 1 at Troon Station was destroyed in the most horrific fire imaginable! We literally stood in the carpark and I watched 14 years of hard graft turn to ashes, and Kyle's and our small team's future destroyed.

However we were not going to let the dream end here! Troon Football Club approached us about coming onboard with them and we set about making it happen. We sourced a portakabin that we transformed into a commercial catering unit and we re-opened within the grounds of Portland Park in November 2021.

Our team since then has grown and we are all as passionate as each other about Scran.

We are very blessed to have been approached about coming onboard with this year's WinterStorm and are looking forward to showcasing our food to a new audience that may not have tried anything from us before.

Kyle, the chefs and myself have put together a new menu for WinterStorm for you to enjoy, and after the event we hope to have a new rock music lovers following.

Pamela
Catering Menu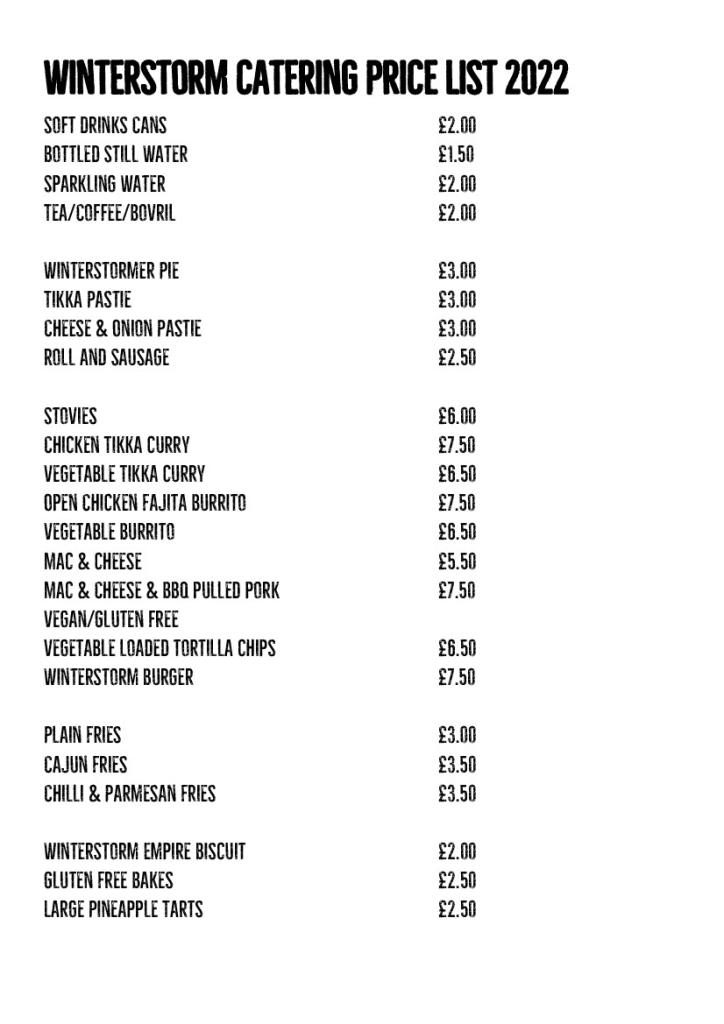 Bar Menu
Some prices have been updated since this was published - 25/11/22