Sunday 26th November
Troon Concert Hall
Doors Open 4pm |
4.30pm - The Rock Choir
5.30pm - Clann and Drumma
6.45 pm - The Runrig Experience with Beat the Drum
Show Ends 9pm
Tickets Only £22.50 plus booking fee | Buy Online Here
WinterStorm are pleased to welcome The Runrig Experience by Beat The Drum to the Steve Strange Main Stage on Sunday 26th November 2023 as part of the After The 'Storm event.
With the recent and tragic early passing of Bruce Guthro, this already emotional event has taken on even greater poignancy but it will undoubtedly be a full on celebration of everything that Runrig have left us over a fifty year period.
In support will be the wonderful Clann an Drumma with the afternoon being opened by the ladies from The Ayrshire Rock Choir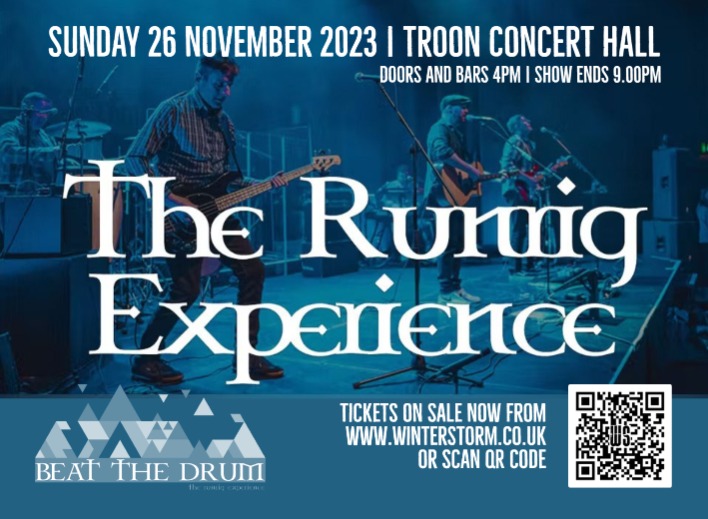 Beat the Drum
Edinburgh singer/guitarist Richie Muir (based in Nottingham) found himself with a lack of work during the pandemic in 2020. His love for Scottish Celtic rock band, Runrig lead him to create a Facebook page dedicated to acoustic Runrig covers. He soon joined forces with band manager Ben Marshall to create a live tribute show celebrating the music of Runrig.
Joining Muir as part of the Beat The Drum line up were bassist Duncan MacDonald, and his London-based Glaswegian son Scott on drums, along with Jason Laing (from the Isle of Lewis) on guitar. The addition of keys saw the band behind frontman Richie Muir get down to rehearsals. Although the role of percussionist had and remains yet to be filled permanently, a number of temporary percussionists join the band for the live shows and represent the essential sonic contribution made by Runrig's percussionist Calum MacDonald.
The addition of a Runrig-themed set to WinterStorm 2023 is even more apt considering how Plan B contributed to the band recording a version of Loch Lomond back in 2012 for Children In Need - you can read more about it here!
WinterStorm very much look forward to welcoming 'The Runrig Experience' by Beat The Drum to the After The 'Storm Steve Strange Main Stage on Sunday 26th November 2023 in Troon, Scotland.
Clann an Drumma
Clann and Drumma took the main stage of WinterStorm by surprise last year and we couldn't wait to sign them up to return - they'll be also now performing a longer set in support to The Runrig Experience. A full on attack on the Celtic senses with pipes and drums is in store and you do not want to miss this to get warmed up!
The Ayrshire Rock Choir
We are delighted to support the Ayrshire Rock Choir and they will be opening the event on the Sunday afternoon. Comprising of ladies from across Ayrshire, the group is one of a network across the UK who get together to perform contemporary pop and rock songs.
Great fun and singalong guaranteed!
On stage at 4.30pm