We wanted to do something positive for 2021 as we come Thru the 'Storm and decided that it was time to see what you lot can do for fundraising. When we thought about it this just seemed so obviously well timed we couldn't understand why we hadn't done it before!
This year WinterStorm will be fundraising for Movember and raising awareness of their male health campaigns. We know that WinterStorm is for everyone and that the health campaigns for both men and women need addressed and rest assured this will happen as we move on. This year we have chosen this charity to get involved with and try to get as many bands, artistes, volunteers and ticketholders involved as possible.
Donate
If you don't want to grow a 'tache we'd still be grateful if you could support the fundraising efforts by making a donation however small through the WinterStorm Movember page.
TicketHolders
Sign up now; be clean shaven on the 1st of November (no cheating!) and start growing presenting your masterpiece at WinterStorm four weeks later with a Concert Hall full of 'taches! Get as much sponsorship as you can and we'll see how much the Movember 'Storm family can raise between us!
Bands
We think it'll be great publicity so why not join us and grow your own for the WinterStorm stage! Same rules apply and god knows you'd be able to raise a helluva number on the funding side with all of your social media shares! Sign up as a member of the WinterStorm team below and get that sponsorship rolling in!
Sign Up as an Individual
Before you join the WinterStorm team you need to create an individual account. Once you have done this you can then join the WinterStorm Team
You can now join the WinterStorm team and we can all share what we are up to! You'll have your own sign up page and get your own sponsorships
The First WinterStorm Crazy Golf Classic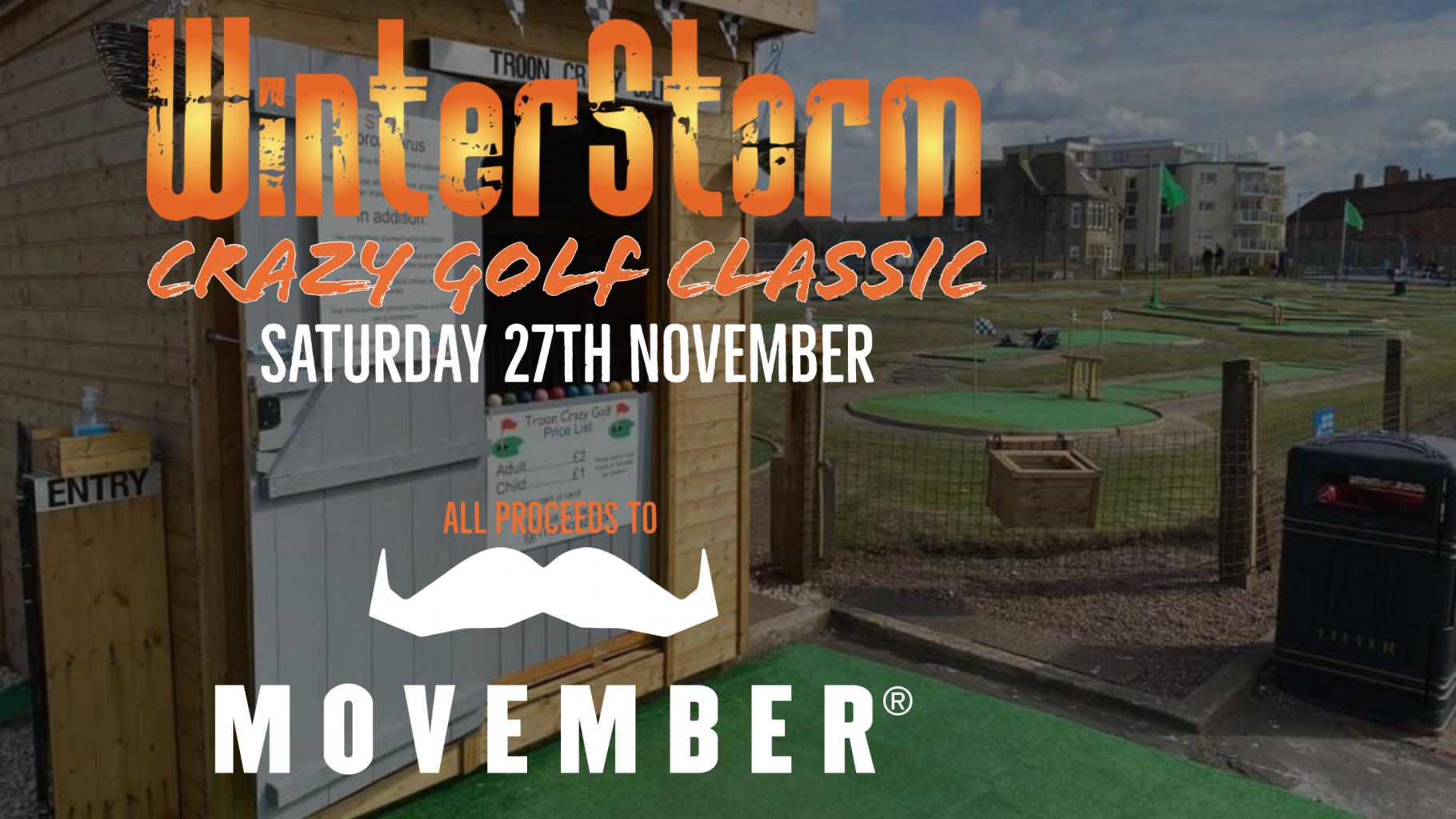 As most of you know 'Storm Saturday is beach clean morning on Troon sea front! Well this year we're adding a bit more hangover fun for Movember fundraising and we'll be hosting te first ever Crazy Golf Open on the beach front along from the venue!
It'll be a fiver a head and for that you'll get a round of crazy golf, a tea or coffee and a roll and square sausage - and quite probably soaked! But hey we'll provide the brollies and it's for charity! The event is being run with the South Beach Kiosk and Troon Crazy Golf with all profits going to Movember.
We'll mail you in plenty of time for your to book your fourball!
Why Get Involved with our Movember fundraising?
Men are dying before their time. But you can help change and save lives.
With the money you raise, we fund groundbreaking health projects across mental health and suicide prevention, prostate cancer and testicular cancer – 1,250 projects so far. Movember have had a huge impact and are hell-bent on making it even bigger – that's where you come in.
Start Growing
Start clean-shaven, then carefully craft your Mo through the month. Shave down on Movember 1st, then uphold the sacred rules of Movember Mo growing. Above all, keep it neat and present it in all its glory to your fellow rockers at WinterStorm or on the WinterStorm Facebook from afar.
Where to Fundraise
The Mo the merrier. Ask your bandmates, family, WinterStorm teammates, friends and family or work colleagues to Grow with you. Share the WinterStorm Team link and we'll see what we can our rock community can do together! More moustaches means more conversations, donations and lifesaving awareness.
Make Some Noise WinterStorm!
Once more for the people in the back...
Let everyone know what you're doing and why. Share your personal fundraising page (aka your Mo Space) far and wide, ask friends and fam to donate and go hard on social media. Big or small, every donation makes a difference.